Power BI: The Hidden Gem in your Office 365 package
Power BI – You've probably heard us talk about it, or perhaps we've invited you to one of our 'Flow, Forms and Power BI' Seminars recently (let us know if you want to come to one by the way!) Anyway, this handy application may sound like an energy drink to those who are not sure what it is, but allow us to explain what this hidden gem is and how it has been hiding within your Office 365 package and you didn't even know it!
So, what is Power BI?
First off, BI stands for Business Intelligence! And it is a collection of software services, apps, and connectors that work together to turn your unrelated sources of data into coherent, visually immersive, and interactive insights. Whether your data is a simple Excel spreadsheet, or a collection of cloud-based and on-premise hybrid data warehouses, Power BI lets you easily connect to your data sources, visualize (or discover) what's important, and share that with anyone you wish. Power BI is ideal for organisations that are looking to gain a better insight into their business, competition, and customers, while keeping pace with the constant flux of marketing conditions – Power BI is business intelligence like we've never seen before.
How can it benefit a business?
One of our clients who has been using Power BI to enhance their business operations, is WSP Safety, A team of construction health and safety professionals based in Newark, offering a national coverage and comprehensive service portfolio to complement ranging business types. It is important to WSP Safety Ltd that their clients are kept up-to-date with the progress of their projects. Using Microsoft Power BI they are able to provide this data in an efficient and visually pleasing way.
Power BI allows them to create reports in an interactive dashboard format. The interactive format provides for more specific data summaries and data insights, allowing their client to select the exact areas of their data that interest them. The data insights produced can be in the style of tables, graphs, charts, maps and even simple number calculations and averages.
It is extremely useful to them as a business because it summarises their weekly activity and encourages a greater, positive output from the team. WSP have recently developed a weekly report for their client, the Co-Op Estates Group, enabling them to keep track of the progress of all their current projects.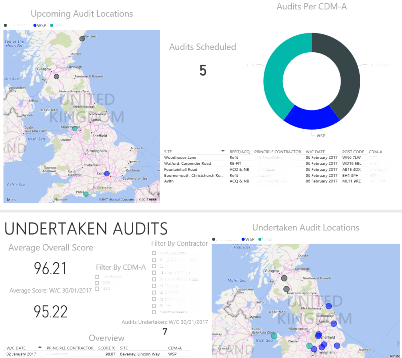 How do I get Power BI?
Power BI is currently available as part of the Office 365 Enterprise E5 version, which many of our clients are currently using. Not using Office 365 yet? Find out more. There is also a free version of Power BI that has a data capacity limit of 1 GB/user; with the option to upgrade to the Pro version, which has a 10 GB/user limit. … The free Power BI version doesn't require an Office 365 subscription.
How do I use Power BI?
There are quite a few buttons and things you may never have seen before, as this is quite an in-depth and comprehensive application, however, it's quite simple to learn simple tools and commands. We hold a lot of FREE seminars and webinars on Power BI, plus other useful features within Office 365 packages, including how you can use them to benefit your business and how to use them in a way that suits you. Get in touch with us to hear about our seminars and webinars on Power BI.